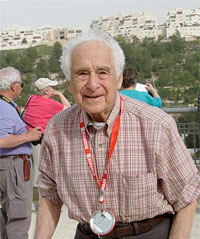 Dr. Max Garber, 84, of Detroit, Michigan is no fair weather friend. Neither the Gulf War in the winter of 1991 nor the intifada have deterred him from volunteering in Israel. What prompted Max to visit Israel nine times so far? "I was prompted by my desire to see the Jewish homeland and to show my support for Israel," he explained.
Several times he volunteered in Sarel Volunteers for Israel which runs various programs for volunteers from abroad. The program accepts volunteers up until the age of 80, and many of the volunteers are retirees. Sarel was founded during the Galilee War in 1983. Volunteers were sent to the Golan Heights so that the people living in the Golan would not lose their entire agricultural crop due to a lack of manpower.
During one of Dr. Garber's stints as a Sarel volunteer, he worked at an Israeli army base near Tel-Aviv. The group painted the warehouse, took inventory of army supplies, packed parts for military vehicles, and cleaned and repainted fire extinguishers and other tank parts.
"The part of the program I enjoyed was the camaraderie among the volunteers and feeling of appreciation that was expressed by the Israeli army personnel toward the volunteers. I disliked the spartan sleeping and the outdoor privy was mighty cold at night," confessed Max Garber. He also enjoyed wearing Israeli army fatigues as well as the privilege of being able to carry a card which exempted him from standing in security lines at bus stations, etc. Each potential Sarel volunteer undergoes a security check before he is accepted to the program.
We hosted Dr. Garber or Uncle Max, as the children called him, for one Shabbat during The Gulf War in 1991. I remember saying goodbye to him at our front door on Saturday night as he was about to leave for the army base. Just then an air raid siren went off. He entered our apartment, headed for the sealed room, calmly opened up the box slung over his shoulder, and put on his gas mask. He was a very reassuring figure in the sealed room.
War is not new to Max Garber. He enlisted in the US army in 1942 and was called up for service in 1943. This was in the middle of his college years at Wayne University, which he entered in 1941. "I was trained as a navigator bombardier. My duties included operating radar for navigation and bombing. I flew 35 missions, most of them from Cerignola in southern Italy. Our plane was hit, flak (the bursting shells fired from antiaircraft artillery) at times," he said.
Max Garber, who belongs to a conservative synagogue in Detroit, was not the only Jew in his unit, but he was often the only Jew in his plane. He has no memories of Jewish holidays while in the army.
He did not know about the Holocaust until after the war. He well remembers bombing the synthetic oil factory at Auchwitz on December, 19, 1944. His plane was given orders to only hit the fuel tanks and to avoid hitting the buildings nearby. The crew was told that Auchwitz was a forced labor camp. What would Max have done had he known that Auchwitz was an extermination camp filled mostly with Jews? "I don't know what I would have done. I was young then."
Max returned to Auchwitz in 1990. This time he did not have a bird's eye view. He had the eye view of a Jew who knew that the Holocaust had occurred and that six million Jews had been murdered. "Upon my return to Auchwitz as a civilian I was shocked and dismayed at the extreme cruelty and inhumanity inflicted upon innocent Jews and others by the Germans and their collaborators." Max toured Eastern Europe again in 2000; this time he was remarried to Roz, a schoolteacher. (Shirley, his first wife died of cancer in 1988.)
Max's roots are in Eastern Europe. His parents were born in Czartrisk, northwest Ukraine. His father, Pincus or Philip, immigrated to the US in 1914 leaving his wife Rivka and baby son Sam in Europe. He planned to send for them when he had earned enough money for their traveling expenses. That did not occur until 1920.
Philip Garber had studied in the Yeshiva of Vilna, and so when he arrived in Boston in 1914 the Jewish community wanted him to be their rabbi. He was not interested. He found work in a factory, where he lost part of a finger in a work accident. He had a relative in Dundee, Michigan, whose population was about 1,300. He decided to go to Dundee with his family, where he entered the junk business.
Max Garber was born in 1923 in Dundee and his two sisters were also born there. He remembers traveling with his family to Detroit for some of the holidays, since Dundee had no minyan (prayer quorum of ten Jewish males). The family moved to Detroit in 1933 shortly after his mother had intercepted a love letter from a non-Jew which was addressed to his brother Sam.
Money was tight in those years, but the GI bill, instituted by Franklin Delano Roosevelt, enabled Max Garber "to live my dream and go to the University of Michigan Medical School." He attended medical school from 1947-1951 and chose to become a pediatrician. "I chose to become a pediatrician because I could see the results of my work, and there were many more positive outcomes of therapy compared with treating the aging population," states Dr. Garber. He practiced alone for one year and with other doctors for the following 44 years. Cases which stand out in his mind include finding early meningitis that could be treated. He also discovered some very early cases of cataracts in newborns that ultimately saved their vision.
Two personal anecdotes demonstrate some of Dr. Garber's qualities which served him well as a pediatrician. While he was visiting us during The Gulf War our newborn baby, now 17, did a lot of screaming. Dr. Garber, in his calm, sweet and fatherly manner said that the baby had colic and he assured us that our infant would outgrow the screaming by four months. And so it was. During a 2001 Shabbat visit with us, our then toddler fell on his mouth (two months prior to this fall he had fallen and lost his top two front teeth) and injured his upper lip on the inside. I applied ice and he screamed more. I brought him to our in-house physician. Uncle Max rocked our toddler and sang to him. He quieted down almost instantly.
Max and his wife Shirley, who he met on a blind date in 1953 and married in August of 1954, raised three sons. Kenneth is a freelance journalist specializing in medical research topics; Martin is a medical doctor specializing in rheumatology and Bob, who holds a law degree, works in the computer field. He is active in The Flame, a Jewish outreach organization which runs programs for college and graduate students.
Two of Max's granddaughters learned Torah in Israel, one of them staying for two years. After her marriage she came to Israel with her husband so that he could learn for a while in a yeshiva in Jerusalem. Another granddaughter plans to learn in a women's seminary during the upcoming year. How would Max feel if some of his sons and/or grandchildren decided to make aliyah? "I have mixed feelings about my children or grandchildren deciding to move to Israel," he confesses.
His 2001 volunteer stint in the army caused some changes in his view on the Middle East. "I became more adamant for a need for a secure Israel and have lost my faith in the Arabs' willingness to make peace and in their truthfulness since the intifada."
His wife Roz was opposed to his 2001 trip because she felt it was too dangerous. "I came in spite of this because I felt Israel needed a show of American support very badly. After hearing of my exploits I almost have her convinced to join me next time," Max said.
And come she did. In 2005 they came with the Jewish Federation of Metropolitan Detroit. At that time 81 year-old Max repelled down a ravine.
Both of them returned to Israel with Hadassah for the month of February 2007 and again for two months in the winter of this year despite Max's failing health. Both times Max and Roz tutored high school students in English to help prepare them for their oral English matriculation exams.
Roz described a presentation Max gave during the latest volunteer stint in Israel. "He gave a presentation at Ort Leibowitz High School about his war experience as a navigator bombardier with the US Army during World War II. The students were quite fascinated, as many of them have their orders to report to the Israeli Army quite soon."
May G-d grant Dr. Garber better health so that he and Roz can continue their important volunteer work in Israel.
The words of this author reflect his/her own opinions and do not necessarily represent the official position of the Orthodox Union.