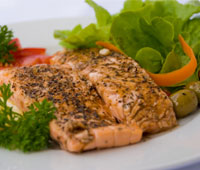 As we all know, this Pesach is a special challenge to all of us who cook. Any Pesach Seder is a lot of preparation, but the three day Yomim Tovim call for real strategy. My plan this year is to make a turkey for Friday night. For Saturday lunch, I'm thinking either a Deli Salad or a Passover Turkey Salad. Both are light and delicious. Neither repeat what I have planned for the Seders. And best of all, neither contains any Chametz! I'm also including a recipe for Passover Salmon "Caesar" Salad, a pretty salad that is a meal in itself and brings so many of the Seder elements together!
Turkey Breast
4 to 6 servings – with leftovers!
Ingredients

:
5 lb. boneless turkey breast, skin on, cleaned and patted dry
2 Tablespoons olive oil
1 Tablespoon fresh lemon juice
1½ teaspoon kosher salt
½ teaspoon white pepper
½ teaspoon garlic powder
Instructions

:
Preheat the oven to 425°F.
In a small Pyrex pan, just big enough to fit the turkey breast with about an inch or two to spare all the way around, place the breast, skin side up.
Combine the remaining ingredients and rub them into the skin of the turkey breast.
Bake the breast until golden, about 35 minutes. Then lower to 325°F and continue baking for an additional 35 minutes. Tent with foil until cool enough to carve.
Cut the two sides of the breast in half down the midline, and then carve the two halves into ¼" thick slices.
Return the sliced breast halves to the Pyrex and the cooking juices and fan them out slightly.
Serve immediately or at room temperature.
Note: for a 16 pound turkey, which will easily serve 8 with leftovers, clean the turkey and place it in a large roasting pan. Make the same seasoning sauce and rub it all over the skin. Place the turkey in a preheated 350°F oven for about 2 ½ hours. Again, tent until ready to carve. Carve off the neck and wings. Remove the legs and thighs and slice the dark meat. Separate off the breast and carve as described above.
---
Passover Turkey Salad
8 servings
Ingredients

:
4 cups diced leftover turkey meat
½ cup diced celery
1/3 cup toasted walnut pieces
1/3 cup dried cranberries
1 Tablespoon minced green onion, white part only
Dressing

:
2 to 3 Tablespoons mayonnaise
2 teaspoons lemon juice
½ to 1 teaspoon prepared white horseradish
Salt and ground black pepper to taste
Instructions

:
Place the first 5 ingredients in a large mixing bowl.
In a small bowl, combine the last ingredients and whisk until well emulsified
Pour over the ingredients in the bowl and toss until well combined.
Refrigerate until ready to serve.
Serve cold, on a bed of red and green endive leaves or on matzo.
---
Passover Deli Salad
8 entree servings
Ingredients

:
Dressing

:
¼ cup Passover catsup
½ cup Passover light mayonnaise
1 Tablespoon lemon juice
1 minced dill or sweet pickle
Salad Toppings

:
3 cups turkey breast sliced in matchstick sized pieces
½ lb. sliced pastrami and of dry salami, sliced in matchstick sized pieces
3 baby carrots, peeled and sliced thinly
3 baby red peppers, cored, seeded and sliced thinly (about ½ cup)
2 zucchinis, cut in matchstick sized pieces
2 heads romaine lettuce, cut into bite sized pieces
Instructions

:
Combine the dressing in a small jar. Reserve until just before serving.
Place the lettuce in a large salad bowl with the carrots, peppers and zucchini, and toss with as much of the dressing as desired.
Toss the meat slices to combine the three types and mound it on top of the vegetables.
Serve immediately. Pass with the remaining dressing.
---
Passover Salmon "Caesar" Salad
8 appetizer servings
Ingredients

:
The Dressing

:
¼ cup lemon juice
1/3 cup olive oil
2 teaspoons prepared white horseradish
1 teaspoon minced leek (white part only)
1 teaspoon each: salt, paprika, dried basil and oregano, sugar or honey
½ teaspoon each: garlic and onion powders, red (hot!) or white pepper
Salad Toppings:
8 (4 oz.) cooked salmon fillets, no skin
16 red and 16 white tiny potatoes, each cut in half
3 Israeli cucumbers, cut in a ½" dice
1 box cherry tomatoes, cut in half
4 hard boiled eggs, cut in quarters
24 steamed or roasted asparagus spears, sliced into 2″ pieces on the diagonal
1 (16 oz.) can black or green pitted olives
2 heads romaine lettuce, cut into bite sized pieces
Instructions

:
Combine all the dressing ingredients in a jar with a screw-on lid. Shake until completely emulsified.
Refrigerate until 15 minutes before using.
Immediately before serving, toss the romaine lettuce with some of the dressing. Toss.
Divide the lettuce on eight salad plates.
Place the salmon at the center of the plate and then arrange the remaining ingredients around the salmon.
Serve, and pass remaining dressing so people may drizzle dressing on the salad toppings if desired.
---
Debby Segura holds an AB in Design from UCLA. She designs dinnerware and she teaches and writes about cooking. She lives in Los Angeles with her husband and children. Visit her at www.debbysegura.com
The words of this author reflect his/her own opinions and do not necessarily represent the official position of the Orthodox Union.