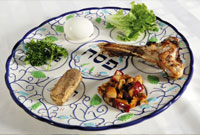 Passover is the most observed Jewish holiday of the year. Even those who never step inside a synagogue pull out all the stops for this one. With our celebratory meal, the Seder, we retell the 3500-year-old story of our ancestors' flight to freedom from the land of Egypt. And everything on the table is laden with meaning.
The centerpiece is the Seder plate, holding the traditional symbols. On every Seder plate sits karpas (a green vegetable), the symbol of spring, which we dip into salt water as we remember the tears shed by our ancestors. Actually for Jews in the shtetls (little villages) in Eastern Europe, spring arrived late, and greens were rare at Passover time. "My father's family always used potato," suggested my friend Yiddish songstress Lori Cahan-Simon, "but added parsley as karpas in the new country, so we have, in effect, parsley potatoes!"
Beets have had a long association with Passover among Ashkenazim. One of the few vegetables available to Eastern European peasants, they could be stored over winter. No wonder borscht became a staple.
My mother remembers my grandmother, Mama Hinda, starting her russel (fermented beet juice) weeks before Passover. When she was done, she had a clear, bright red liquid that smelled like wine. Then when she wanted to make borscht, she would go down to the cellar and ladle out some russel to use as a base, adding fresh beets and sugar.
Rabbi P. Waldman of www.aish.com emailed me with a more somber Passover association: "My father, who is a 'graduate' of Auschwitz, told me that he and his friends had no wine for Passover in the concentration camp, so instead they used borscht for the four cups in commemoration of the usual wine, although according to the Code of Jewish Law, one may only use wine."
Instead of Mama Hinda's borscht I'll be serving glazed roasted beets sprinkled with almonds, a recipe I've adapted from "The Healthy Jewish Cookbook" (North Atlantic Books/Frog Ltd., $21.95) by Michael van Straten.
Even the almonds have a long and healthful history. "Almonds are one of the most ancient of foods, mentioned in many historical writings including the Old Testament," he noted. "Ancient Romans called them 'the Greek nut,' as they believed Greeks to be the first cultivators, but wild almonds were part of the Jewish tradition long before then, often eaten on festive occasions like weddings."
For the main dish I'm turning to "The Silver Palate," now newly released as the 25th Anniversary Edition (Workman Publishing, $19.95), by Julee Rosso and Sheila Lukins. Talk about tradition! I'll make that old classic, Chicken Marbella, the dish that goes on and on like the Energizer bunny. My adaptation features skinless, boneless chicken breasts, sun-dried tomatoes, apricots and basil.
I asked Lukins what it is about that recipe that has made it a favorite for 25 years.
"At Passover there's a lot of cooking to do," she said. "The Marbella is so delicious and easy to prepare ahead of time. The flavors of dried fruit and olives, the garlic and oregano – they just connect. The brown sugar and wine pulls it all together when it bakes. And because you baste it, it just shines when it comes out of the oven."
Those who associate Passover only with forbidden foods may think, how restrictive, how boring. With flour and leavening products prohibited…um, got dessert? But Jewish cooks, with their eons-old history of creating delicious dishes within the confines of both poverty and the kosher laws, do love a challenge!
Everything I ever learned about sponge cakes came from "Passover Cookery" by Joan Kekst (Five Star Publications $24.95). Her full page on the proper beating of eggs is alone worth the price of the book! (My aunt's lemon sponge cake swelled from nice try to mile high under her tutelage.)
"Passover Cookery" is more than a collection of recipes. It's a Passover primer, with equal appeal to mavens and neophytes. Especially helpful are her Six-Week Countdown to Passover and sample menus.
I finally met Kekst recently in Cleveland while on my book tour. She had already begun preparing for her family's Seder as she has for the last 25 years since her mother-in-law packed away her Passover dishes, pots and pans, put them in Kekst's car and said, "It's your turn from now on."
Judy Bart Kancigor is the author of "Cooking Jewish: 532 Great Recipes from the Rabinowitz Family" (Workman) and can be found on the Web at www.cookingjewish.com.
---
My Chicken Marbella
12 to 18 servings
Ingredients

:
For the Marinade:
1 head garlic, cloves separated and pureed
½ cup pitted Spanish green olives
½ cup dehydrated sun-dried tomatoes, soaked in hot water to reconstitute, drained, and chopped
½ cup red wine vinegar
½ cup olive oil
1 cup dried apricots, snipped in half
1 Tablespoon dried basil
1 Tablespoon dried oregano
6 bay leaves
Kosher (coarse) salt and black pepper to taste
For the Chicken

:
12 to 18 (5½ to 6½ lbs.) boneless, skinless chicken breast halves, rinsed and patted dry
1 cup (packed) dark brown sugar
1 cup dry white wine
¼ cup cilantro or flat-leaf parsley leaves, finely chopped
Instructions

:
Combine all the marinade ingredients in a bowl and stir well.
Place the chicken breasts in a very large non-reactive bowl or dish, and pour the marinade over them. Marinate, covered, in the refrigerator overnight
Preheat the oven to 350°F
Arrange the chicken breasts in a single layer in a 17 x 11-inch baking pan, and spoon the marinade over them.
Sprinkle the brown sugar over the chicken breasts and pour the wine around them.
Bake, uncovered, basting frequently, until the chicken is cooked through, about 45 minutes.
Sprinkle with the cilantro, and serve.
Source: "Cooking Jewish: 532 Great Recipes from the Rabinowitz Family" by Judy Bart Kancigor (Adapted from "The Silver Palate Cookbook 25th Anniversary Edition" by Julee Rosso and Sheila Lukins)
---
Orange Beets with Almonds
6 servings
Ingredients

:
6 medium-size beets (about 2 inches), with tops cut to within 1 inch
1½ cups freshly squeezed orange juice
Zest of 1 orange, finely peeled into thin strips
2 Tablespoons olive oil
Salt and pepper, to taste
½ cup sliced almonds
Instructions

:
Preheat oven to 400°F
Scrub beets well and wrap them individually in foil. Place them on a baking sheet and roast until they can be easily pierced with a skewer, about 1 hour. Remove from oven and allow to cool
When cool enough to handle, remove beets from foil, cut off tops and slip off skin (those gloves that food handlers wear are great for this purpose). Cut beets into 1½-inch cubes
Combine orange juice and orange zest in a large skillet and boil over medium-high heat until reduced to ½ cup. Whisk in the oil and add the beets. Continue cooking, stirring frequently, until liquid is reduced to a thick glaze. Add salt and pepper to taste
Meanwhile, heat a medium skillet over medium heat and toast almonds until just golden, 1 to 2 minutes.
Serve beets in their juice with almonds scattered on top.
Notes: Begin testing the beets with a skewer after 45 minutes of roasting, and remove the smaller ones from the oven as they are done. Large beets can take up to 1½ hours.
Be sure not to include any pith (white part) with the orange zest or the dish will be bitter. An easier method (although not as dramatic in presentation) is to finely grate the zest with a Microplane or rasp.
Adapted from "The Healthy Jewish Cookbook by Michael van Straten
---
Apricot Jelly Roll
12 servings
Ingredients

:
Cake

:
4 eggs, room temperature, separated
¾ cup extra fine sugar, divided
2 teaspoons lemon juice
1 teaspoon grated lemon zest
5 tablespoons potato starch
Pinch of salt
Passover confectioners' sugar
Apricot Filling:
12 oz. dried apricots, chopped
1¾ cup water
3 strips orange zest
2 Tablespoons fresh lemon juice
½ cup sugar
2 Tablespoons Passover orange liqueur or white wine
Garnish

:
1 Tablespoon confectioners' sugar
6 large whole apricots
1 oz. semi-sweet chocolate
Instructions

:
Cake:
Preheat oven to 350°F. Grease a 10 by 15-inch jellyroll pan. Line with parchment paper, allow ends to overhang 1 inch.
In a large bowl of an electric mixer, beat one whole egg and 3 yolks until thick and color lightens. Gradually add all but 2 tablespoons sugar, the lemon juice and zest. Sift potato starch over mixture and incorporate with a rubber scraper.
In another large clean bowl, with clean beaters, beat 3 egg whites until foamy on medium low speed. Add a pinch of salt, gradually increase speed, add 2 T sugar, beat until shiny and stiff.
Fold whites into yolk mixture in three additions. Spread the batter evenly in prepared pan. Bake 25 minutes. Cake will spring back when lightly touched. Spread a towel on the counter and lightly sift with Passover confectioner's sugar. Turn cake onto towel, remove paper, gently roll up cake in towel and cool. May be chilled to fill later.
Fill with apricot filling. Dust with Passover confectioner's sugar. Garnish with chocolate dipped apricots.
Apricot Filling

:
In a medium pan, combine diced apricots, water, lemon juice and orange zest. Bring to a simmer, cover. Cook 20 minutes until water is reduced to half and apricots are soft. Stir in sugar, cook on low, uncovered, to thicken mixture and evaporate liquid.
Remove from heat, cool 10 minutes. Transfer to processor. Puree until smooth, add orange liqueur or wine; consistency will be like mayonnaise. Transfer to bowl, cover and chill one hour or more. Bring to room temperature until spreadable. Thin if necessary or filling may break the delicate jellyroll or layer cake.
Assemble cake; sift with confectioners' sugar. Melt chocolate; coat half of each whole apricot in chocolate. Chill on wax paper to set chocolate. Garnish the apricot filled cake.
Source: "Passover Cookery" by Joan Kekst
The words of this author reflect his/her own opinions and do not necessarily represent the official position of the Orthodox Union.