Redefining what it means to live in an Orthodox Jewish Community, come spend Shabbat with us at Congregation Anshe Chesed in Linden. With an established and growing Orthodox community, we offer a beautiful neighborhood, affordable real estate, kosher establishments, Yeshiva day schools and an easy commute into NYC! Offering shiurim, lectures, fun holiday events, chesed projects, Shabbos park and an excellent youth program, Congregation is a vibrant and friendly shul!
Come to our prospective member Shabbaton, May 30-31, 2014! Sign up by calling us at 908-486-8616 or mailing michelle@anshechesed.org. Find out more about us at www.anshechesed.org. We look forward to meeting you!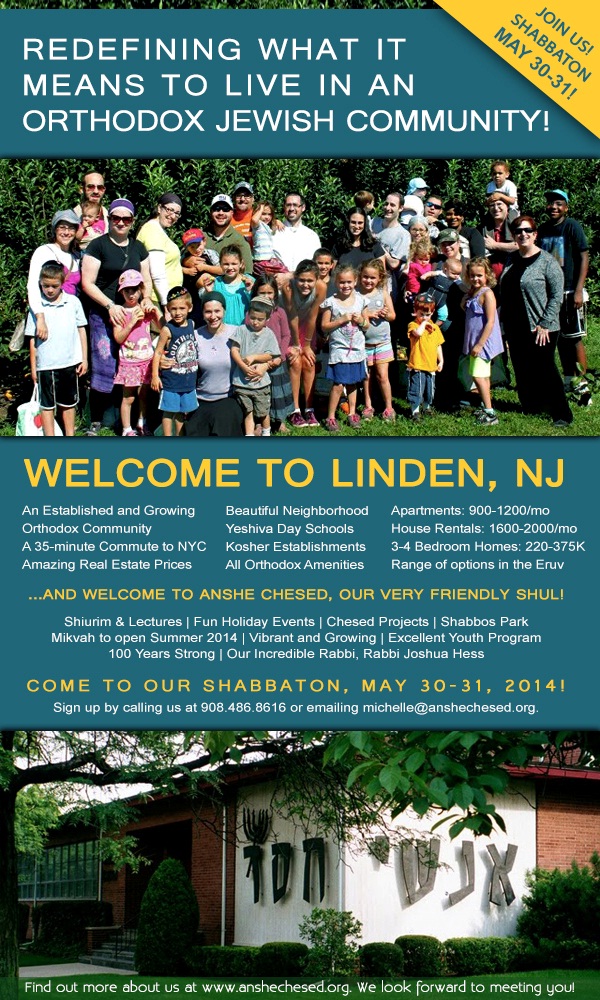 Like this article?
Sign up for our Shabbat Shalom e-newsletter, a weekly roundup of inspirational thoughts, insight into current events, divrei torah, relationship advice, recipes and so much more!