By Yonit de Metz
Deciding to leave everyone and everything you know for the unknown requires a compelling reason. On the outside our life was ideal: my husband Asher and I had great friends, access to several synagogues, an abundance of kosher services, and once a month we'd head to Lakewood, NJ or Manhattan to visit friends and avail ourselves of the bounty found there. We attended religious classes and our children Leah, 5, and Aryeh, 4, attended a small, local preschool. But there was something missing.
Our two-bedroom, one-bath apartment was feeling cramped with active children and more so when we had guests over or the snow outside made escaping from the four walls difficult. So we began our exciting next chapter, house hunting! Our realtor was helpful, but seeing the houses in our price range within the eruv (a boundary of overhead wires that makes possible carrying on the Sabbath) was disheartening — many were no better than the apartment we were wishing to upgrade from! Houses are not necessities, so we consigned ourselves to waiting and saving until the right one came along.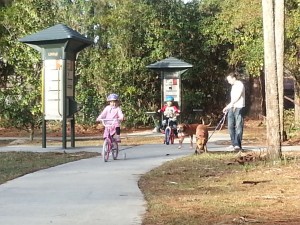 The next wakeup call came in the form of a tuition agreement. Our children were outgrowing the small preschool they had attended for two years and were ready to attend the local Jewish day school. We had heard others talk about the rising cost of Jewish education, but it wasn't until we were faced with $20,000 combined tuition for our four-and-five- year- olds did we get what the fuss was about. It's possible to attend a year of college for less than $20,000! Our "house fund" would be toast.
All of this collided on a cold, slushy, wintery day. It was my husband who saw the ad for the Orthodox Union's Jewish Communities Fair. We went almost on a lark. We both had jobs, friends, and a comfortable life. But going into Manhattan and checking out the Fair would be a fun adventure at the very least.
Upon arrival, the first thing that struck me was the sheer number of people willing to consider leaving for one of the 37 "emerging" communities. There were communities twenty minutes outside of Brooklyn displayed next to communities below the Mason-Dixon Line. It was comforting to see the many options to choose from and that we were not alone in our frustration.
With two small children in tow we could not leisurely stroll and soak up the sights — we needed a game plan. First, we'd only approach communities with better weather than the Northeast; we'd had enough of the cold! Second, we'd ask about the cost of housing in the Jewish community; if it was the same or more as where we were, it would be "Thanks but no thanks." Third, we wanted to know what the tuition was at the Jewish school(s). There was too much we loved about our community to consider moving unless the new place could beat it on these three issues we deemed deal breakers.
Table after table we waited for our turn for the printed handouts, scanning glossy poster boards, shaking hands with rabbis, community members, teachers, synagogue presidents, and even a local Mary Kay representative. We'd ask our three questions, and depending on the answer, ask a few more. We had surprises, like finding out that Cherry Hill, NJ, just a stone's throw from where we were living, is a much more affordable place to live or that Jacksonville, FL had a thriving Jewish community.
After the fair we quickly put together a plan for a pilot trip to one of the communities we liked. It was a whirlwind of house hunting, restaurant sampling, and family vacation rolled into one. The houses were enormous compared to the same price range in the Northeast. The number of restaurants was modest but the amenities made visiting fun and definitely sweetened the community's standings in our mind.
The pilot trip really galvanized our plans from the theoretical to the eventual. It made it all seem more real. When I lost my job just before Passover, it was the last straw. We had to leave; one salary would make day-to-day difficult, never mind saving! So, we formed a plan and prepared for our next community visit. Our destination: Jacksonville! The night after Passover ended, as soon as we dried the last of our holiday dishes, we packed up the car and drove south.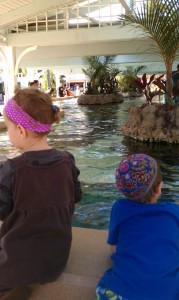 Fifteen hours later we found ourselves admiring the palm trees, marveling at the sunshine when we'd left a season more lion than lamb. We'd found a hotel within the local synagogue's eruv, got the name of a realtor, and our search began. When someone mentioned that we were looking at the "more expensive" part of the neighborhood, I was embarrassed by the laugh that escaped before I could stifle it. Expensive in Jacksonville was below the average in the Northeast, and the square footage difference was astounding. We saw big beautiful houses with back yards unheard of up north.
We found the Jacksonville community to be friendly, with a nice mix of young families like us, and more established families as well. There was also a spectrum of different levels of observance. During our time visiting we were invited for meals for both Shabbat and weekday and made time to see the beach.
Something we had to adjust to was the difference in the food stores. We'd become accustomed to the convenience of a kosher butcher, baker and candlestick maker. The supermarkets in Jacksonville don't have ready-made kosher sushi, rotisserie chicken, or kugel pudding to go. But our wallets and our waistlines would be healthier without the convenience foods. Kosher items can be found at every mainstream supermarket in Jacksonville. The price difference between houses and schooling more than made up for the markup we saw on chicken.
The choice was clear. By moving to Jacksonville we received financial freedom, a warmer climate and a beach within driving distance! We purchased our first house, a true dream house. We enrolled the kids in the local Torah Academy, and joined the library, the Jewish Community Alliance, the synagogue and its sisterhood, the Federation's Young Leadership, a martial arts gym, and a knitting group (or two). In truth we became completely enmeshed in the community and we love it! We appreciate the warmth of weather and personality we've experienced here. This year Jacksonville will be returning to present the community at the Fair, on April 21.  Perhaps we will be having some new neighbors in a year or so! What we would tell them is that we may lack certain amenities, but what we do have in this growing Jewish Community of Jacksonville, is special, appreciated, and growing.