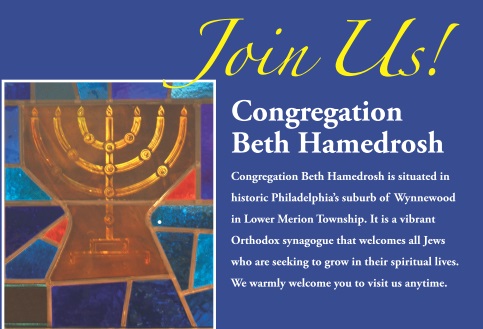 Discover our growing community!
January 10-11, 2014
Youth Programming throughout Shabbat

Shabbos Afternoon Walking Tour of the Neighborhood
Tours of Local Schools available
Shiurim with Rabbi Gross
Saturday night program with the Wynnewood Young Couples and Singles (WYCS) group
Sunday morning  a Women's Org Tu B'Shvat brunch at 9:30
Home Hospitality
No cost!
For more information and reservations contact Sarah Rosner
(610)642-4656 or email s8rosner@gmail.com
For information on financial incentives, email Rabbi Gross: rygross@gmail.com
Congregation Beth Hamedrosh
200 Haverford Road
Wynnewood, PA 19096
(610)642-6444
bethhamedrosh.org
Like this article?
Sign up for our Shabbat Shalom e-newsletter, a weekly roundup of inspirational thoughts, insight into current events, divrei torah, relationship advice, recipes and so much more!