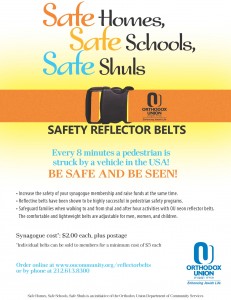 Increase the safety of your synagogue membership and raise funds for your synagogue through a safety campaign for reflector belts. Safeguard families when walking to and from shul and any other night activity through wearing a reflector belt.
They are adjustable for men, women, and children, comfortable, and lightweight. Reflective belts have been shown to be highly successful in pedestrian safety programs.
Charge to Synagogues $2.00 each, plus postage
Safety Belts can be sold by the synagogue at a minimum price of $5 each
Safe Homes, Safe Schools, Safe Shuls is an initiative of the Orthodox Union Department of Community Services
Order your belts online Here! or by phone 212.613.8300
Like this article?
Sign up for our Shabbat Shalom e-newsletter, a weekly roundup of inspirational thoughts, insight into current events, divrei torah, relationship advice, recipes and so much more!