Food, Body Image, and Eating Disorders in the Jewish Community
Over the past several years, societal pressures with regard to body image have contributed to a dramatic increase in eating disorders in the Jewish community. "Hungry to be Heard" is an absorbing documentary that focuses on the rising rates of anorexia, bulimia, and other eating disorders in our community. It is aimed at providing education regarding awareness, prevention, and treatment of eating disorders.
The documentary has an impressive roster of health professionals and rabbinic authorities who address the various medical, psychological, and halachic issues involved. They include world renowned eating disorder researchers and clinicians such as Dr. Catherine Steiner-Adair of Harvard University, Dr.Yael Latzer of Haifa University, Dr. Judith Ruskay Rabinor of the American Eating Disorders Center of Long Island, Dr. Esther Altmann, a prominent psychologist in the Orthodox community, and many others.  Esteemed rabbis include, Rabbi Dr. Abraham J. Twerski, Rabbi Dr. Tzvi Hersh Weinreb of the OU, and Rabbi Steven Burg of NCSY. Their interviews are intermingled with accounts from brave young women and men, both single and married, in the Orthodox community that share the stories of their battles with eating disorders.
Rabbi Weinreb, executive vice-president of the OU and a clinical psychologist, explained, "Eating disorders are, unfortunately, a prevalent problem in the Orthodox Jewish community, affecting mostly teenage women. It is one of the few psychiatric disorders affecting adolescents that carries a threat to life. As such, it is extremely important that our community address the problem at its roots and learn how to prevent and treat it. I viewed the film at the OU National Convention, and was impressed by its professionalism, poignancy, and power. Hopefully, it will take our community one step further to confronting and solving the issue head-on."
The 40-minute film is suggested for presentation to parents in schools, synagogues and organizations, with Q & A and discussion led by a mental health professional who can address various questions that are sure to arise. In the New York metropolitan area, the film's creator and executive producer, Ms. Elisheva Diamond, and Associate Producer, Dr. Sarah Weinberger-Litman are available to accompany the film for a panel discussion and meet with staff members prior to showing the film in your organization.
"Hungry to be Heard" developed by the Young Leadership Cabinet of the Orthodox Union, is a production of Better World Productions Inc., and is available FREE OF CHARGE for distribution as a continuation of the Safe Homes, Safe Schools, Safe Shuls initiative of the Orthodox Union Department of Community Services, which addresses issues impacting upon our community.
---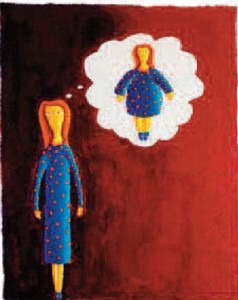 Bishvili ??????
For Me
An Orthodox Jewish Guide to Full of Ourselves: A Wellness Program To Advance Girl Power, Health and Leadership
a Jewish companion guide to be used in conjunction with Full of Ourselves (FOO),[1] a wellness curriculum published by Teachers College Press that aims to bolster girls' self- and body-esteem.  In response to the call to raise strong and healthy Jewish girls, and a request for help within the Jewish community for effective eating disorders prevention, The Hadassah Foundation generously provided a grant to develop, evaluate, and re-design a first-rate Jewish guide to FOOD.  Bishvili: For Me is the result.
Listen to
Eating Disorders 101: Signs, Symptoms, and Accessing Treatment & Navigating the Pressures to be Perfect: Exploring Eating Disorder Contributing Factors
featuring Ilene Fishman, LCSW & Sondra Kronberg, MS, RD, CEDRD HERE
Listen to
Pressures & Stresses Contributing to Food & Body Image Challenges in the Frum Community
featuring Rabbi Dovid Goldwasser HERE
Listen to
Panel Discussion: What Does Recovery Look Like?
featuring Jennifer Beaudean & Ellen Domingos HERE
Listen to
Professional Development Workshop for Mental Health Professionals
featuring Dr. Catherine Steiner-Adair HERE
Listen to
Self Esteem and Eating Disorders: Facing the Issue in Our Community
featuring Rabbi Dr. Tzvi Hersh Weinreb, Executive Vice President, Emeritus of the Orthodox Union HERE
Listen to
Shidduchim and Body Image
featuring Rabbi Dovid Goldwasser, Rav and Author, and Eating Disorders Counselor HERE
Resources 
National Eating Disorder Association: www.nationaleatingdisorders.org
NEDA supports individuals and families affected by eating disorders, and serves as a catalyst for prevention, cures and access to quality care.
If you are worried about yourself or a loved one, you can call NEDA's free, confidential Information and Referral Helpline at 800-931-2237.
MASK, Mothers and Fathers Aligned Saving Kids: http://www.maskparents.com/
MASK's mission is to ensure that all parents/caregivers in the Jewish community receive the resources necessary to help them raise emotionally healthy families.
Tikvah V'Chizuk: http://www.tvcsupport.org/index.html
TVC offers support to families and friends of those suffering from an eating disorder– as well as the individuals themselves – within the Jewish community.
 Mercaz Female: http://www.mercazfemale.org/
Mercaz Female saves lives through our intensive, outpatient treatment of Orthodox Jewish girls and women in the Yerushalayim area who are suffering with eating disorders
Eating Disorder Treatment Collaborative http://www.eatingdisordertreatmentspecialists.com/
Sondra Kronberg, MS, RD, CEDRD
Director
516-794-7328
eatwell4@aol.com
www.sondrakronberg.com
Eating Disorders in the Jewish Community
Press Coverage:
Helping Teens With Body Image Issues
Baltimore Jewish Times, January 22, 2010
By: Adam Stone
Candid Talk On Teen Body Image Angst
Baltimore Jewish Times, February 5, 2010
By: Rochelle Eisenberg