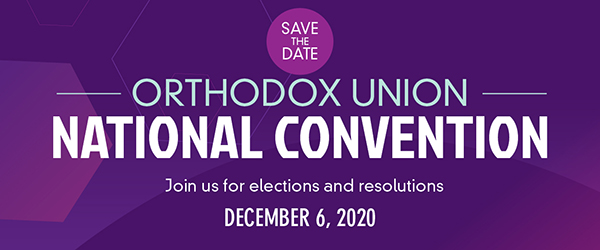 The Orthodox Union is honored to invite you to the OU's Biennial Convention at 10:00 AM on Sunday, December 6th, 2020 at Congregation Keter Torah (600 Roemer Avenue, Teaneck, NJ).
As a delegate, you have the right and responsibility of voting on the incoming slate of Officers of the Orthodox Union and the proposed resolutions.  Each delegate is entitled to one vote and must be present in person to vote. We will follow relevant governmental guidelines and social distancing protocols then applicable.  The specific protocols will be communicated closer to the date of the Convention.
The elections will begin at 10:00 AM at Congregation Keter Torah. Please arrive in advance of the 10:00 AM start time. Complimentary breakfast will be provided to delegates beginning at 8:15AM. As the elections require a quorum of synagogue and OU board delegates to move the OU forward, your participation is crucial. Please confirm your participation in the election by emailing hannahf@ou.org.
If you would like to discuss any issues relating to your participation, please contact Hannah Farkas, Director of Board Engagement and New Leadership at, at 212-613-8351 or hannahf@ou.org.
Thank you for partnering with us.