Team Yachad 2015 for the Miami Marathon and Half-Marathon was Yachad's largest team ever, with 220 runners proudly crossing the finish line. Each of the runners promoted Yachad's mission of inclusion while raising much-needed funds for the organization. Team Yachad runners age 13-65 from all over North America spent a wonderful weekend together in sunny Florida. Some of the highlights of the weekend included a ruach-filled Shabbat, a pre-race pasta party and a post-race BBQ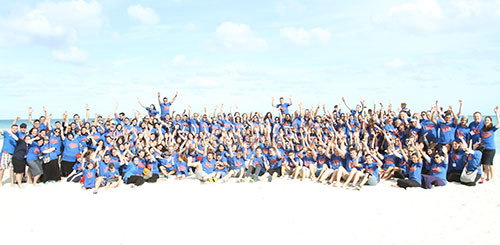 OU staff members who ran include Gayle Abrams, Grace Berman, Rabbi David Felsenthal, Nomi Gofine, Robbie Grad, Lauren Hertan, Chani Herrmann, Batya Jacob, Dory Leviashvili, Natalie Leichtman, Dr. Jeff Lichtman, Devorah Marmer, Penny Pazornick, Amanda Pollak, Tzippi Rosen, Ken Saibel, Emily Shalev, Alyssa Wolff and Ari Ziegler.
A huge yasher koach goes to all of the staff for organizing such a meaningful weekend. Plans are already well underway for Team Yachad 2016.