The $25 for 25 Project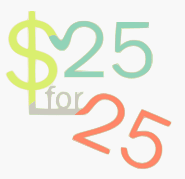 25 for $25 is the first ever world-wide Intercollegiate Torah Partner program.
We partner up Jewish students from across the globe to learn together for 25 minutes a week via Skype/FaceTime with Amazon Gift card prizes.
This program is changing the face of learning for Jewish college students. We are connecting students far and wide from all types of backgrounds in a way never done before.
We need your help in connecting Jews from around the globe, bringing more of Hashem's Torah in the world and doing our part in making the world a better place!