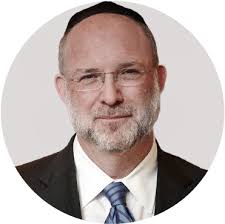 Judaism's central purpose is to be mekadesh Shaym Shomayim—to glorify and elevate God's presence—and that is precisely the thread that binds the Orthodox Union's myriad programs and initiatives.
Every facet of the Orthodox Union's programming is focused on providing each Jew with the tools and opportunities to embrace their Jewish identity and to fulfill their mission through the performance of mitzvotand the study of Torah. That is why it is an exceptional honor for me to introduce the OU 2019 Impact Report.
I am particularly proud of the unique partnership between our extraordinarily talented professionals and passionate lay volunteers that permeates all of the OU's efforts. Volunteers serve as leaders on OU boards, committees, and commissions, and in grassroots government advocacy. And, perhaps the most impactful, young adult volunteers are serving on the front lines as advisors on both NCSY and Yachad programs.
This collaboration reflects a value at the core of the OU culture. The OU understands that every community member can make their own distinct contribution to the Jewish people, and that growth in Torah Judaism is not the exclusive domain of the community's most pious, scholarly, or communally-involved. Because we are all unique, we each have our own lifelong right and responsibility to find our own particular manner of
caring for the physical and spiritual needs of others, and to find our personal relationship with God.
Critical to the Jew's quest for a relationship with the Creator is a lifelong commitment to finding our personal share in the study of His Torah, which provides us the opportunity to know God. Mitzvah observance, tefillah, support of Israel and acts of chessed, all assume far greater meaning and impact when imbued with deeper religious understanding, uniquely achieved through Torah study.
The OU, therefore, embarks on efforts to provide each of us access to a suitable form of Torah study. Programs such as Torah New York, and its sister programs in Los Angeles and Jerusalem, are intended to showcase the vast array of styles and subjects that comprise Torah learning. The same is true of the online OU Torah lectures, including the wildly popular Daf Yomi shiurimand the newly-introduced, innovative All Daf platform.
Lastly, we will continue to increase women's learning opportunities both through our general Torah programs and through those introduced by the OU Women's Initiative, while continuing the explosive growth of the Semichas Chaver Program and the aspirational duplication of learning programs for retirees, such as the Beit Midrash of Teaneck (BMT), recently highlighted in Jewish Action magazine.